How to promote
---
There are various ways to promote Union Savings programs to the membership.
We provide print, website and social media ads.
If you would like something specific, let us know and we would be more than happy to create a unique ad.
Materials are available in English and in French.
---

Order Materials
Posters and Brochures
We offer customized brochures and posters.

There is no minimum or maximum order number. Posters are printed on tabloid (11"x17") or legal (8.5"x14") paper.
Post these materials on bulletin boards at worksites, in lunch rooms, union halls and more.
Place the brochures in your union hall, training center, lunch room, etc. Include these materials in new member welcome kits.
Distribute at meetings, in mailings or employee mailboxes.
Contact us to order FREE custom made materials with your union's logo.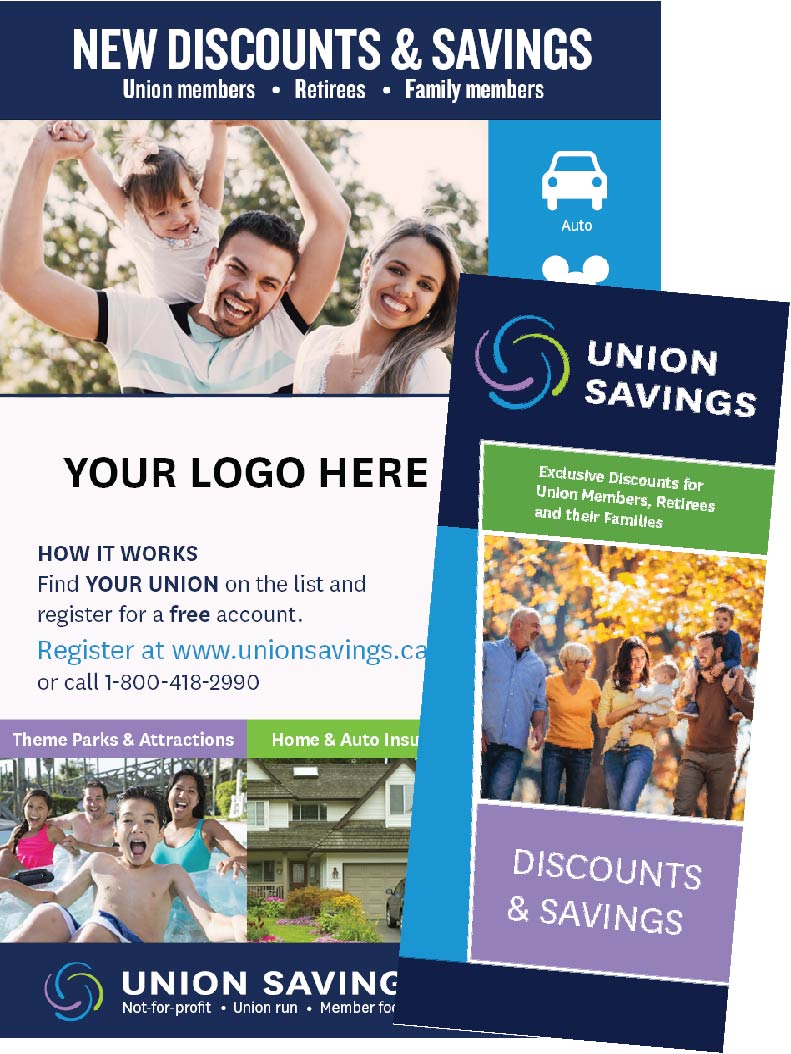 ---
Post online
Website & Social Media
Whether on your union website or your union social media profile, make sure your members can easily find benefits information in one click.
What's the most popular section of most union websites? Benefits information!

Make sure your members can find benefits information in one click from your home page.

Add the Union Savings Banner to your benefits page and link it to unionsavings.ca for the list of other benefits.
Follow us on social media to see our latest posts and share them with your membership.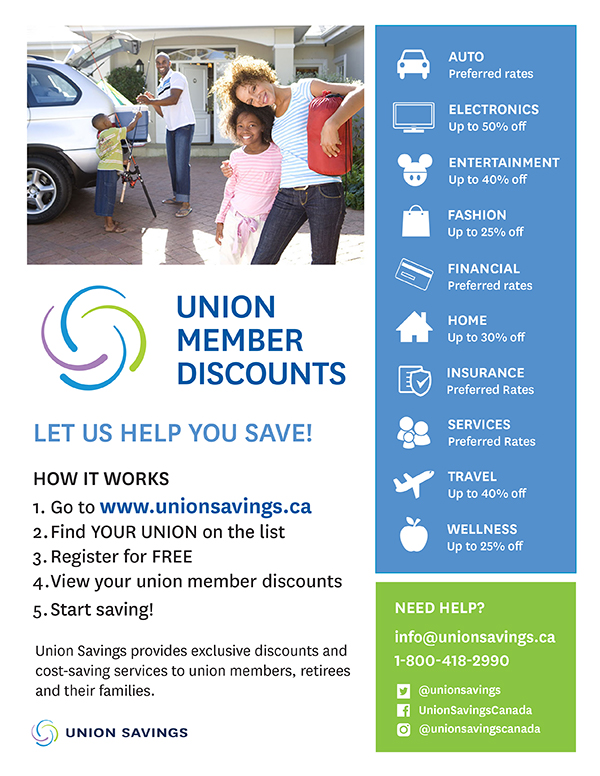 ---
Use benefits in organizing
Providing additional services for union members can play an important role in membership engagement and retention.
Your affiliation with Union Savings means your members will gain access to high quality programs, designed to save them and their families money.
---
Union Savings Outreach
Are you hosting a meeting, bbq, golf tournament, holiday party or charity event?

We would love to participate! Invite us to present or to table at your next event.
---
To order promotional materials contact
Freeyelle Mehari
Membership and Outreach Director

Email: fmehari@unionsavings.ca
Call: 647-456-3475